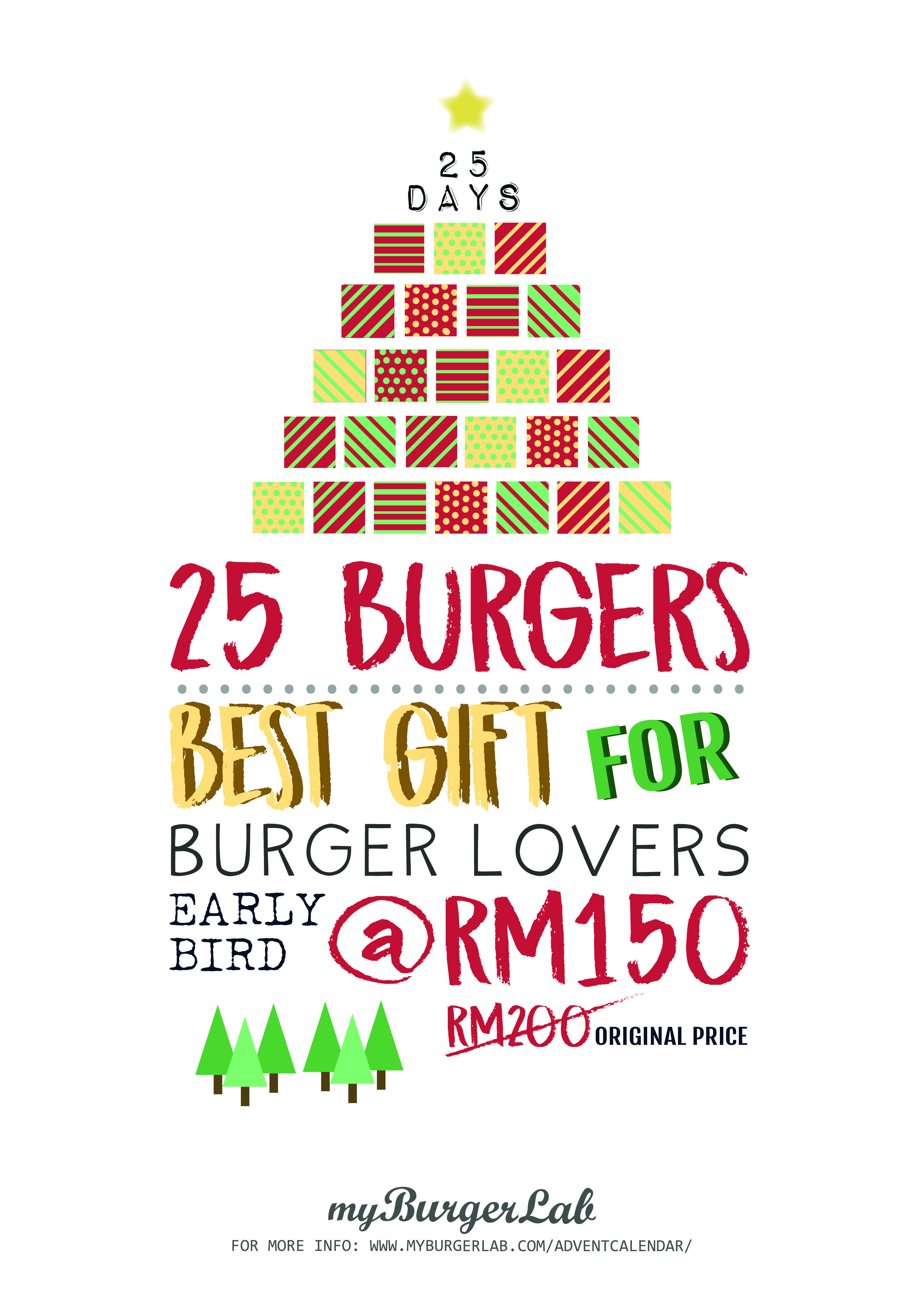 Howdy there! We would like to give you a chance to try 25 different burgers this Christmas at myBurgerLab! The Advent Calendar card gives you 1 burger daily from the 1st of December right up to Christmas.
Dates:
Early Birds  are from the [16th – 20th November] where you can get the Advent Calendar for RM150 and after that it is RM200 from the [21st – 27th November].
RM420 for just RM200! If you're an early bird – its only RM150! 
Want to know how to get one for your tummy or your friends? Here's how!
Head on to the link below, make sure to fill in your correct details and you will then have yourself a Advent Calendar! Its as simple as that.
https://shop.pocketbook.io/myburgerlab-workshop/quickbuy/24723eaa0caaa5be?v=13
---
Terms & Conditions
You can only claim the 1 particular burger (ala carte) offered on that day. Unfortunately, you can't claim burgers before or after the predetermined dates.
Burger patties can be only changed to that of a lower value (Beef can be changed to Chicken or Tofu, but Tofu can't be changed to Beef).
The card must be presented upon ordering in store, before making payment.
Your Advent Calendar can be claimed at all labs (Seapark, OUG, Sunway & Cyberjaya)
Our Cyberjaya outlet is closed on Sunday – in their case the Sunday Burger will be available for redemption the next day or the day before (Saturday or Monday).
Similarly for the 5th of December (we are closed every first Monday of the month) redemption for the next day or the day before (Sunday or Tuesday) is applicable. Specifically for the Cyberjaya lab, its redemption would be on the Saturday, 3rd or Tuesday, 6th!
Happy Omnomnoming!