#mBLisEpic
WHY
At myBurgerLab, we're all about Epic burgers. But once every year, to celebrate our anniversary, we gather our community of Geeks and fans together for something else that's also Epic – a worthy social cause.
OUR ANNIVERSARIES
In 2013 and 2014, we hosted food donation drive where customers donated packaged dry food in exchange for free burgers, which we sent to various homes. Last year 2015, we partnered with the folks at B.I.G. Group to host a charity drive where people got to enjoy a one day special burger only while the proceeds raised from the sale were contributed toward various homes.
WHAT'S THE PLAN THIS YEAR
This year, we're raising the stakes and taking our fundraising to the next level (we're a little nervous ourselves!). Our goal is to raise RM70,000 (more than triple of our previous year) for a home-building project with EPIC Homes. This will help to provide livable, safe housing for an underprivileged family in a local rural village.
This can help change the life of one family.
We will be donating a portion of our profits to this cause and to reach this target, we are reaching out to you, the myBurgerLab community to join us in making The mBL Epic Build Project a success. Each of your contribution means a lot of us and will help a family live better and have a home to call their own.
WHO, WHERE AND WHEN?
We will personally get our hands dirty in the built of this Home. A total of 30 peeps comprising of mBL Founders, Managers, Geeks, Fans, EPIC Home Specialist and Donors (representatives) will spend 4 days in October over at Gopeng, Perak to complete the Build.
Here's how you can help.
10 RAFFLES = 1x 10% discount card (For 6 months)
20 RAFFLES = 1x 15% discount card (for 1 year)
50 RAFFLES = 1x BUY 1 FREE 1 CARD (for 1 year)
Each raffle ticket you buy will entitle you to one lot of lucky draw to win prizes!
What are the prizes that are up for grabs?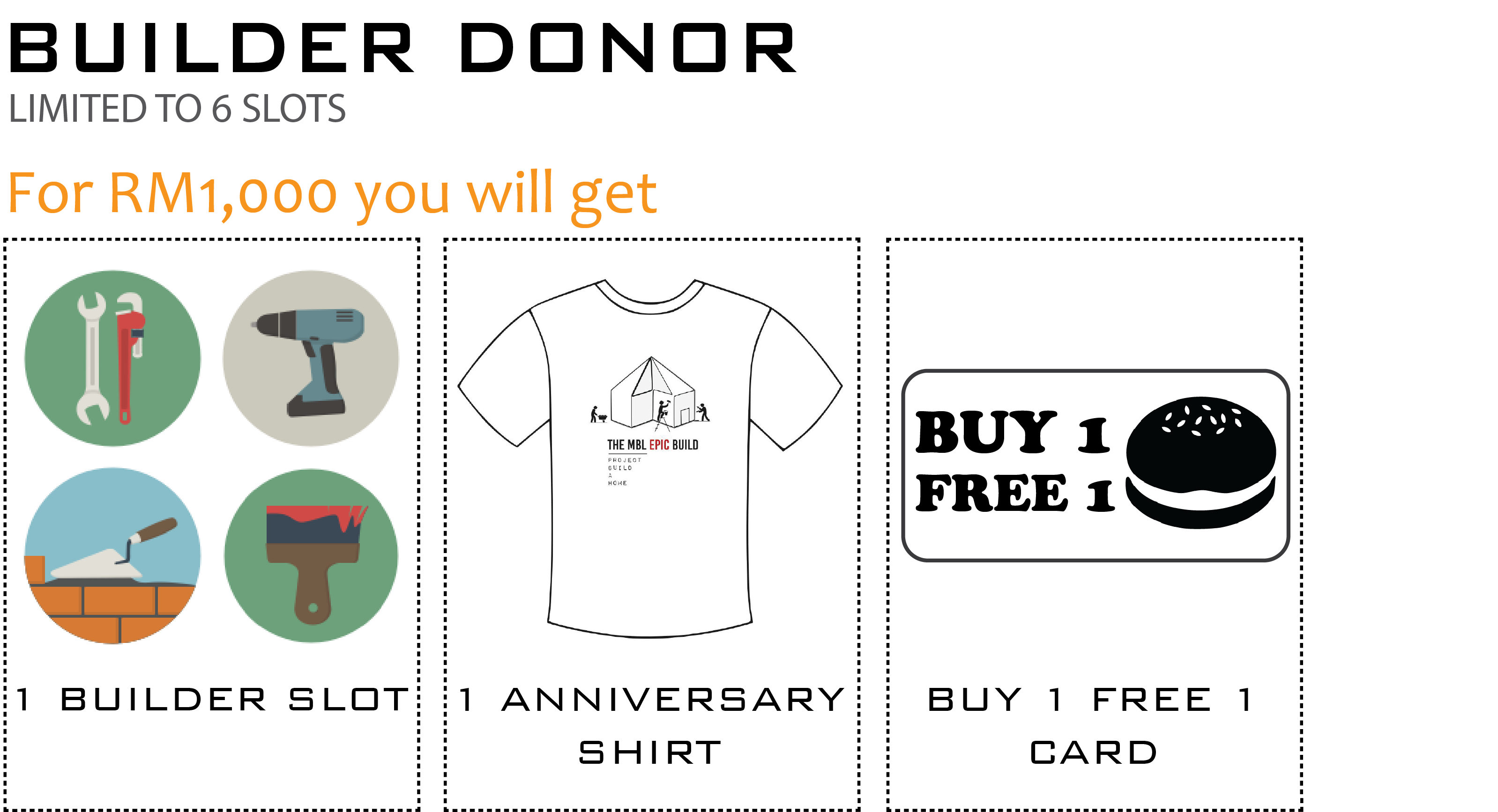 rm1000 = 1 Builder Slot + Tshirt + 50 Raffle Tickets
rm5000 = 1 Builder Slot + Name on Plaque + 30pax Private Party
rm10,000 = 2 Builder Slot + Name on Plaque + 70pax Party
rm2.6 Billion (lol) = Congrats you now own 100% of myBurgerLab
BANK DONATION INSTRUCTIONS
If you are donating for builder donor and big shot donor, please bank in the money to bank details below:
EPIC YOUTH SOCIETY
562683200306 (MAYBANK)
Please email over the bank in slip to us at askme[at]myburgerlab.com
UPDATE: With the support of our friends in the Corporate Sector (BFM, FusionEx, Mr Thiam Hock, and Jeevan) , we have raised rm37K to date!