Arnold Tham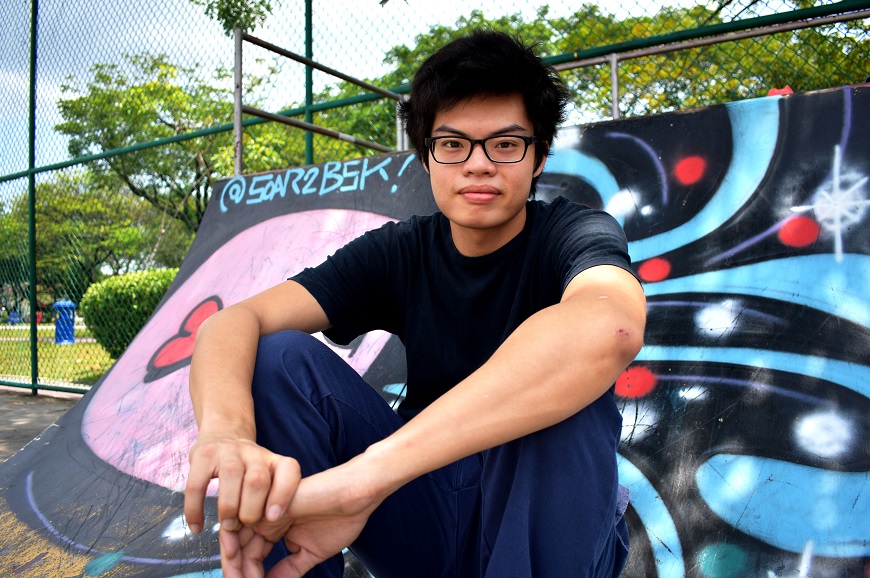 "I guess I've grown quite a lot, simple things like time management, coming in on time for work really teaches
me discipline. Putting in the hard work juggling between studies, work and hobbies, I've learned how to
organise my life through myBurgerLab and I look forward to more challenges in life."
Q: How did you find out about myBurgerLab?
Well, a friend of mine was working here before me and introduced me to myBurgerLab. Back then a friend of mine who is now in the marketing team, he's called Abel, lived together with me. We didn't have jobs that time and so we thought 'hey let's look for some money' and the timing was just nice as I was thinking of leaving my old job at a guitar store to try something interesting. So, I left my old job and here I am today. I learned a lot of new and different things after working in myBugerLab. Everything feels very dynamic in Lab as I get to see people from all walks of life. I remember there was a month where I was just working as a fryer for 30 days, double shifting and honestly I just wanted to see how far I could go and when I'd break. So far, myBurgerLab has given me quite a challenge because as a Part-Time Supervisor there's always something to learn no matter how long you've been here.
One of the toughest times for me was the situation with the change of store managers. It was uncomfortable for me at first, with the changes to the team, but slowly things settled in and I did too.
Q: What is the one thing you treasure the most?
My skateboard. It's something that I carry with me all the time. I travel around with it and frankly it's like my mode of transport. It's also a way to keep myself healthy and just something I do very often. I commit a lot of my time to it and it's also something I really want to master. Especially those really tough tricks that challenge me, it kind of reminds me of working in myBurgerLab. Even though you've been around it for awhile, it's still important to learn the basics of everything. Like flips, tricks and grinds. However, when you get finally master something, it's the best feeling ever.
Q: What is one thing you're most proud of?
Work wise, it's the connection I have with the people who are working here. I have a lot of friends here and Lab definitely feels like a second home for me. I'm very proud of the friendships I've made, the bond we share is irreplaceble. Just talking to these people gives me a good time because the trust and understanding is mutual. The encounters I have with new people and the ones I've been working with for awhile is transparent and honest and unconditional. Maintaining these relationships and building new ones, this is what I'm proud of the most.
Q: Where do you see yourself 5/10 years down the road?
I'm not too sure. I guess it's good to dream once in awhile. I have a lot of ideas, I feel. You always go around seeing things and noticing what could be improved in a certain place. There's always a certain hole in the market that needs to be filled and a niche that can be explored. Right now, it's just getting experience and learning new things. But maybe in few years down the road, I'd like to start my own business, maybe like an indoor skate park in a student area. There are gyms and stuff here but not a lot of skate parks so I want the people in Malaysia to be able to enjoy skating with the same passion as me.
---
Outside of work, Arnold enjoys playing music (he plays the bass) and is currently in a band called The Peachskins (they're coming up with a new album soon, check em' out on Spotify!) He also loves trying new things and honing different skills to apply in the vast place we call Earth. There are also many things he'd love to learn in the future too, including pottery, woodworking, a foreign language and many more unknown to even himself. Arnold is what someone would call a "Jack of All Trades", but his grit and perseverance shows that he'd be a master of it all in no time.