Michelle Khong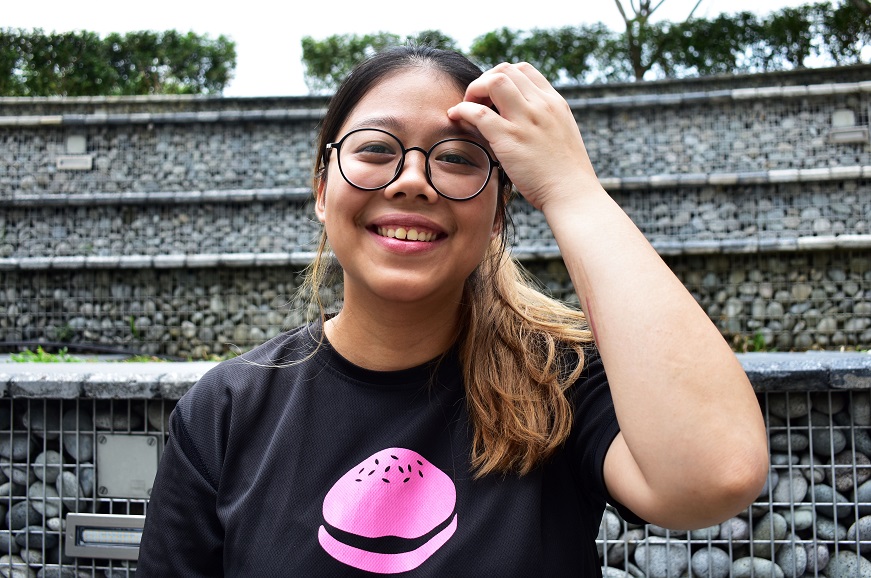 "Personal growth wise, I grew a lot after joining myBurgerLab. I used to not be able to talk to strangers or even order food
from a restaurant with ease (unless it's my usual one). Eventually, I grew out of my comfort zone and learned to communicate
with people much better than before. I wouldn't say I'm very good at it, but there are definitely signs of improvement. This is
one of the many things myBurgerLab has taught me well and it's all good."
Q: How did you find out about myBurgerLab?
"I found out about myBurgerLab during October 2013. I had no clue about it actually. It was because my brother and I were looking for a place to eat and that's where we stumbled open the newly opened branch in OUG. I still remember it was a row of shops that were dimly lit and suddenly there was this store that caught our attention. It had a white color sign with a black burger logo which read 'myBurgerLab'. Then, my brother told me about how popular the burgers were and he told me to try to land a job there so he could get some discounts and secrets behind their burgers. He was joking. But I took it very seriously. So I applied for a job and not long after, I started my first shift. That's how it began (in 2014). What I love the most about myBurgerLab is the various opportunities I'm presented with. One of my favorite experiences are the events I get to explore. Also, I also get to help out at different outlets and experience many types of challenges. The good thing is, there's always something to learn. I started as geek, and then tried out for Part-Time Supervisor position and now I'm working under Human Resources team. The one thing I remember the most as a Part-Time Supervisor back in Seapark branch was when Ren Yi said: 'All you have to do is make sure the shop doesn't burn down."  It didn't. So I think I did pretty okay in the end."
Q: What is the one thing you treasure the most?
"Personal growth and development. "Personal growth wise, I grew a lot after joining myBurgerLab. I used to struggle at talking to strangers or even order food from a restaurant. Eventually, I grew out of my comfort zone and learned to communicate with people much better than before. I wouldn't say I'm very good at it, but there are definitely signs of improvement. This is one of the many things myBurgerLab has taught me well and it's all good. Plus, we all know adult-ing is hard, but having an awesome work family that backs me up whenever I need it, so yeah, that's truly irreplaceable"
Q: Where do you see yourself 5/10 years down the road?
"I see myself with a house and a dog by my side. It's very important that I have a dog in the picture. Because growing up I don't get to rear any pets, coming from an Asian family, they tried to give me a goldfish or a turtle instead, the one with the soft shell to distract me from getting a dog. But when I do eventually move out, a dog is a must in life. Also, being in the F&B industry, I would definitely love to see myself having my own place or even being a part of a business. For me, bread, coffee, pastries is more of my thing, and being in a place where I can put all of these together and managing different aspects of a shop is my vision. I may be only 34 or 35 years old a decade down the road, but I want to have a place I can call my own that allows dogs or pets to come sit around. I can bring my dog with me and it'd be paradise.

+ + + + +
Michelle is an enthusiast for many different things in life. Food wise, she has a deep affinity with bread and pastries. She quotes "I love sour dough bread, brioche, Focaccia anything that's bread." Also, she's an ardent advocate for solving and collecting jigsaw puzzles of great quality (she has a few sets from Japan and frames them up in her living room). She also adores flowers of any kind (her favourite being Baby's Breath but claims that roses are her least favorite flower because of its commercialization). Lastly, she loves baking although claims that she isn't very good at it but loves it for its need of accuracy and precision. That being said, a thirst for precision and a sense of responsibility is what Michelle is made of. And sometimes, that's what makes the world go round.