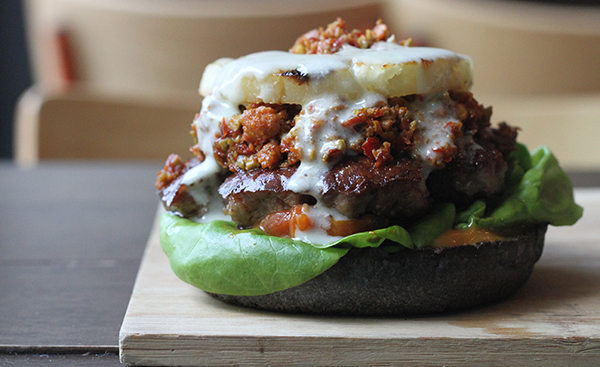 The name says it all, this stinky burger comes with Sambal Petai, Sharp Cheddar Cheese, that are paired with a Beef Patty, and Blue Cheese Dressing. It's a flavor bomb!
It all started at Cristang's Restaurant when our co-founder, Ren Yi had a Pork Sambal Petai burger. Though Cristang is no longer in operation, the taste has stuck with the myBurgerLab team till today. Taking inspiration from it, Ren Yi decided to make his own version of the burger.  Something so good definitely needs to be shared, only this time around with a little twist ?
'What more can this burger bring to the table? How could its flavour be any stronger?!' So what is different? The initial Stinkbomb was made 'stinkier' with a little twist of our own; Blue Cheese! Little did we know that the combo was a perfect mixture of flavours.
After it's initial run on the menu, myBurgerLab brought it back again in 2015 and looked to improve on the initial version. After several rounds of testing, the team decided that all that was needed is just an extra slice of Pineapple. Viola – the Stinkbomb 2.0! A little sweetness amongst the strong flavours did the trick! Don't be intimidated – once you get past the initial 'smell', the flavours that come after that is well worth the risk ?
"You'll either love me or hate me but until you try, you'll never know"
*Note: This is on our seasonal menu burger so please check with us for availability.
Also available in Chicken version which is also called Hook, Line and Stinker (fried chicken thigh version)
Scroll down to see what one of our customers thought about it 😉