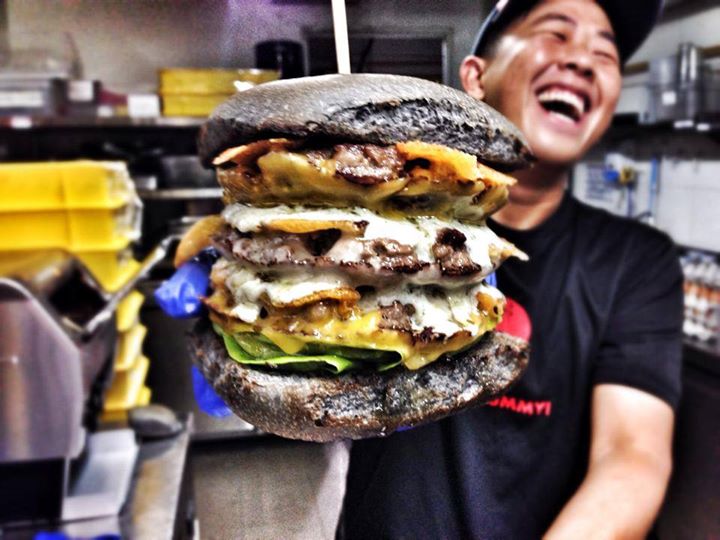 Thank you to all of you for the wonderful amazing 2014 that has been. Here's a list of things if you missed out that we have done this year in 2014.
First Awesome Monday!
We wanted to make Monday awesome for the neighbourhood!! So we did!

Relaunch of Zoidberger!
The Zoidberger: Garlic Butter Prawn/s on top of seared Beef Patty, Fish Curry Mayo, Blueberry Jam, and crunchy Rempenyet.

Launch of Project C
We wanted to support a geeks dream to bake and run her own business. So, Project C is born!
Proud to announce we suply to 15 different cafes in KL, Redang Island and also Ipoh!

We played Fun Run with you!
We found out lots of you play this addictive game so we decided to join in the fun! Winner got a free burger from us!


Launched The Awesome Card!
We launched a limited edition Unique Loyalty Card that requires you to travel around to get your free burger!
bit.ly/ThatAwesomeCard
Relaunch of The Seattle 2.0
The Seattle: A toasted soft sugar donut bun, an oozy fried egg, some sautéed mushroom and a crispy beef patty topped with Sharp Cheddar done two ways. Where's the coffee you ask? Oh, the sauce is an Espresso* infused Umami mayo.

Collab with Samsung Lifestyle.
We are now part of the Samsung Life app which rewards Samsung users with special discounts!

Relaunch of Kaiju and Jaeger
Due to popular demand, we brought back these two powerhouse. They are itching for a return in the new year!

We partied and served at FMFA!
For the second year in a row, we were right at the heart of the biggest party of the year!

We made Earth Hour permanent for 2014
We loved the idea of Earth Hour and we felt that just once a year is not enough! So we committed ourselves to reminding everyone of being watchful of their Carbon Footprint.
bit.ly/mBLEarthHour
bit.ly/mBLEarthHour2
April's Fool Promo!
We pulled off another successful April Fools prank!
Visit by Youtube Superstars – Kina Grannis, Madilyn Bailey, Jun Curry Ahn, David Choi, Jason Chen, Jinnyboy and Reuben.

Collab with RandomAlphabet and made Sarong Burger.

Remember the 2048 game!? We made our own!
Click here to play! http://goo.gl/b7eipy</li>
Received 2013 Top40 award by TimeOutKL
This came a bit late but it still made our day!
bit.ly/Top40TOKL
Launched Gojira: It takes a Beast to defeat another.

Collab with Samsung: Starlight Cinema
It was an awesome week serving burgers under the stars and watching movies on the super big screen!
bit.ly/StarlightCinema1
bit.ly/StarlightCinema2
Collab with Fried Chillies: ieatburger Event.
Proud to be a part of such a glorious event! 20 TOP KL burger joints in one location!

Collab with myTeksi:
We manage to secure a good deal with myTeksi to fetch our customers to our Labs for a discounted fare!
bit.ly/mBlxmyTeksi
Geeks Appreciation Night
The managers and founders of myBurgerLab cooked for the staff instead as an appreciation for their effort. We also invited their parents over for a get together to understand what environment their kids are working at. Lots of love all around!
bit.ly/GeeksAppreciationNight
Launched The Ultimate DoubleDown.
As a tribute to KFC's DoubleDown, we made our own!
2x Fried Chicken Schnitzel as Buns. In the middle we have a duo of Sharp Cheddar & Swiss Cheese, Chicken Pâté, Soggy Fries, and a sweet Garlic Honey Soy Sauce.

Collab with Alliance Bank.
In conjunction if the launch of BizSmart Academy by Alliance Bank, we made a burger called 'Like A Boss' for them!
bit.ly/mBLxAllianceBank
https://www.youtube.com/watch?v=2JBkcjl7ZJQ
Received Certificate of Excellence from TripAdvisor.
We were so surprised to receive such a wonderful news from Trip Advisor! We won a Certificate of Excellence! At the same time, we are rated as the No1 restaurant in PJ on Trip Advisor too!
bit.ly/TripAdvisor2014Winner
bit.ly/Rated1OnTripAdvisor
Launch of Not-So-Original Rendang Burger.
After the success that is the Satay Burger, we were called to make another locally flavoured burger, hence The Rendang Burger with fresh Mango Cubes!

Anniversary (10th July) Charity Drive
As part of our yearly commitment to do good with our customers, we held a Canned Food Charity Drive! We even had The Ming Thing and friends to help us give our free burgers!

bit.ly/mBlxTheMingThing
Launch of Mini Burgers
We launched our range of mini burgers to meet the demand for people who have small appetites and wanna share different varieties of burgers.
bit.ly/mBLMiniBurgers
We ran the Colour Run!
The most colourful run of the year and we were there! Did you see us!?
bit.ly/mBLAtColourRun
Endorse Goget as our Delivery Service.
You can now get myBurgerLab Burgers using the services of Goget!
bit.ly/mBLLikesGoget
https://myburgerlab.com/gogetdelivery/
50,000 Likes on Facebook and Collab with Groupon.
As a way to say thank you for the great support given to us, we collaborate with Groupon and gave our an awesome deal! 11,000 Groupons were sold out in 4 days! Woah!
bit.ly/mBLxGroupon11K
Coolest and Happiest Ice Bucket Challenge

We were on BFM enterprice (Breakaway)
We are very honoured to be invited by BFM to be a part of their BFM Enterprise Breakaway session!
bit.ly/mBLAtBFM
We were at Digi Annual Staff Appreciation event.
Digi asked to feed their hardworking staff on their annual Appreciation Day! We can't say no! They sure know how to party!
bit.ly/mBLAtDigi
We saw 3 of our Seniors Geeks graduated from KDU College!
We are so proud of these Geeks! So happy we could be a part of their journey into adulthood.
bit.ly/mBLGeeksGraduate
We have our own newsletter where we share our news, experience, recipes and etc with you!
http://bit.ly/mBLSubscribe
Awesome Monday Part 2!
We decided it's time we did our part to cheer up the neighbourhood again!

Opening our 3rd Lab:
It is our plan to slowly grow organically and sustainably. Our 3rd Lab showcase a little more confidence and maturity as we grow. Thanks for the support thus far! We hope to grow with you and continue to serve you in the years to come!


Advent Calendar.
Our Christmas Present to you! Rm100 for 25 burgers!
bit.ly/mBLAdventCalendarTicket
http://bit.ly/mBLAdventCalendar

We hosted WongFu Productions and friends at Sunway Lab!
OMG! It's Phil and Wesley from Wongfu Productions! Along with David Choi, JinnyBoy an friends visited! We even played Bball and Ultimate Frisbee with them!
http://bit.ly/mBLWongFu2


We have salads now!
We are now officially selling Salads! Wohoo! More to come!

We hosted a Meet & Greet event with JinnyBoyTV
Alongside with Shoppertise, we are proud to have hosted a Meet & Greet with Jin and Reuben from JinnyboyTV!
bit.ly/MeetnGreetJinnyBoyTV
Babies/Kids Eat for Free!
Shoooo CUTE! Thanks to Baby Jezz, all babies and kids under 8 eat for free!

RnD Future Project: Hotdawgs!
And we want to end the year with something new to look forward to! Wanna try our Hotdawgs!?