Over the weekend, a group of volunteers (with the help of Epic Home) built a home in Kampung Serendah for Martin, Ayu and their family. All this in just three days! If you think that doesn't seem possible, read on below.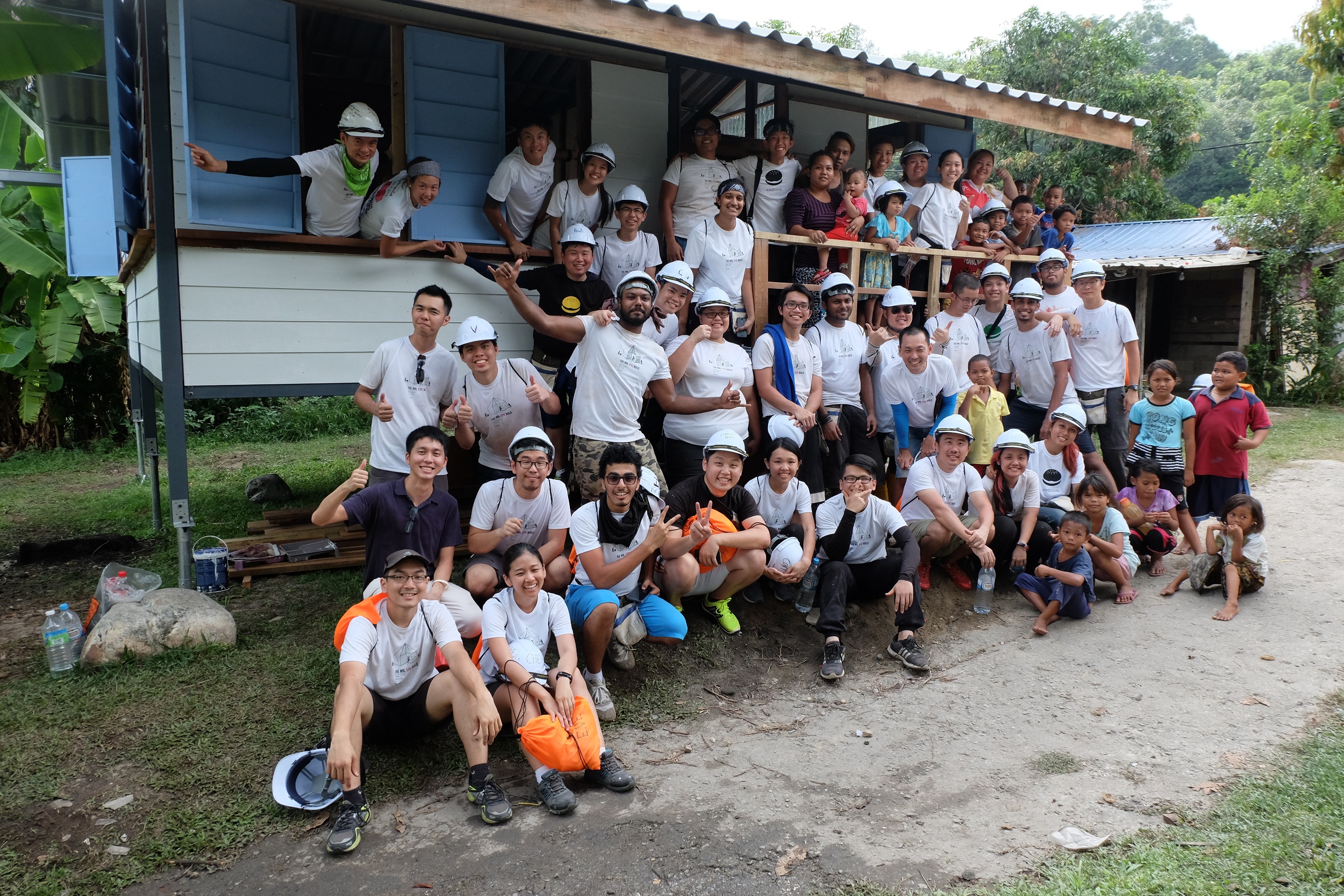 With the guidance of Specialist Builders from Epic Home, the group of 30 (which consisted of mBL Founders, Managers, Geeks, Fans, Epic Home Specialists and Donors) worked tirelessly to build the new home from scratch. Andrew, the myBurgerLab Operations Manager said "There were definitely a few stressful and tiring moments especially when you feel like your body is going to cramp up and break. More so when you make mistakes in measurements and have to redo certain things with the already limited supply of raw materials available! However as the days passed, each and every one of us got better at what we did and suddenly you feel that sense of satisfaction after you have accomplished or done something good.
It's amazing that with 1 day of training, a group of us who had little to zero experience in building a house managed to accomplish it in 2 and a half days, ahead of schedule (it rained on the first day, hampering our work for a few hours). This is definitely due to the help of our amazing coordinators and specialists."
The myBurgerLab team would like to appreciate and say thank you to the Master Builders Dennis and Damon, Specialists – Jix, Michelle, Raymond and Elim and Coordinators Jasmine and Alvin. Thank you for refilling the water bottles and keeping us hydrated. Thank you for feeding us and making sure everyone was taken care of.  Thank you for teaching us, and making sure everyone was safe.
Building a house is no joke – structures had to be raised, wooden boards had to be cut and all these were fused together with screws, nails and glue. Working under the hot sun, it's safe to say that the builders got a taste of the life of a construction worker.
Cassandra, one of the builders said that "It was good to see people from different backgrounds come together to build a home for people. We created something from nothing and that is amazing, no words can describe the feeling. It looks easy when other people are drilling and nailing things, but it's completely another thing when doing it yourself! It's actually not as easy as it seems, you need a lot of strength and determination to do it accurately because we're building a home for a family. A simple mistake can just tumble the house and that is definitely not what we want to see.
It was tiring but when we saw the happiness of the family when receiving their new home, we forgot the pain and tiredness we've been through because deep down in our heart, we felt everything we did is worth it. This shows that when kindness and love is acted upon human being, there's hope for everyone."
A huge thanks to the builders who volunteered their time, and effort to make this build a success. Sam, Jack, Wu Han, Eve, Shaun, Samantha, Melvin, Josh Wong, Arvindh, Chon Giap, Ibrahim, Ser Yee, Yen Cheng, John, Ikhwan, Thanussha, Jeremy, Ren Yi, Andrew, Chang Ming, Carr Mun, Phei Fern, Sajid, Kok Yin, Cassandra, Chris, Victor, Osama, Chloe, and Arfan – you guys were awesome!
It was an experience that while challenging will be cemented (ba-dum-tss!) in the memories of the builders. To conclude, we'll let Samantha, one of the donors share her story with you.
"What we did with the EPIC Homes team was no easy feat. I was proud to be part of the "Great Wall team", building up the walls of the house, painting and installing the windows, and having the war of our lives whilst hammering 3-inch nails and drilling screws into the thickest, strongest wood possible. Not too shabby for a couple of kids from the city. It was all hands on deck from the get go and not once did any volunteer give up. The synergy we had over the entire build was beyond amazing. Everyone was constantly looking out for each other and not once was there a disagreement or mishap.
Although I am sunburnt beyond compare, can no longer feel my legs, have the weirdest bumps and scars all over my body, and have lost most of my voice (mostly from the late night jam session during our down time), I am eternally grateful and proud to have been part of such an amazing initiative. Seeing the overwhelming joy in Abang Martin, Kak Ayu and their children's faces negated all the pain and struggle."
To conclude, we would like to say THANK YOU to FusionEx, Thiam Hock, Prima Avenue, BFM, Jeevan, Lexis Hotel Group, Mooi Hua, Li Kheng and everyone else who contributed to making this experience a success. None of this would have been possible without your help and support!