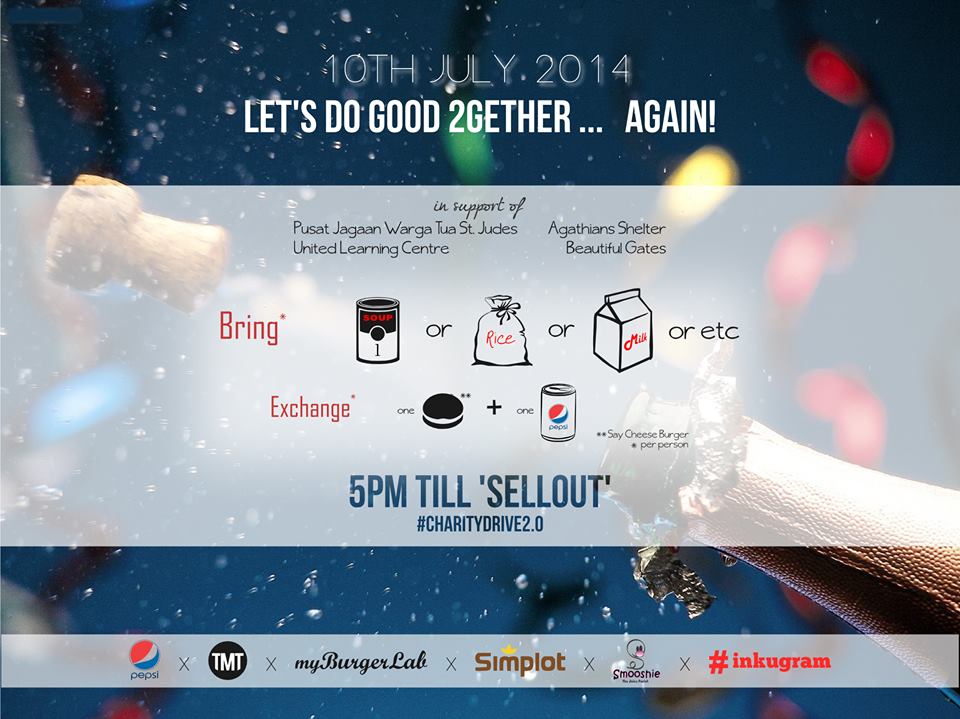 As y'all know by now, it's our Birthday tomorrow Thursday (10th July) and we have ONE THOUSAND EIGHT HUNDRED 'Say Cheese' burgers with drinks and Hashbrown to give out!
Fast facts:
– We will be giving out these free burger at both Seapark and OUG.
– As per usual we start at 5pm.
– We have a 1 person 1 Burger policy.
– Yes, The Ming Thing and gang will be helping out that day.
– Our kind sponsors are Simplot, Smooshie Juice, Pepsi, and inkugram.
All donations will go to these charitable homes: St. Judes Old Folks Home, Agathians Orphanage, United Learning Centre & Beautiful Gates.
We don't usually say this, but any 'likes' and 'shares' on this post is much appreciated!
Look what we collected last year!
http://bit.ly/1stmBLAnniversary
#SistemBarter
Also, here's a list of things you can help bring. We hope you can contribute more than the required amount! If it's not too much to ask, we would also appreciate it if the items exchanged has a value between rm5-rm10 (or more!).
Rice
Condensed Milk
Strawberry Jam
Milo(3 in 1)
Nescafe 3 in 1
Brown sugar
Salt
Potato
Instant noodle-spicy
Instant noodle-chicken
Coffee 3 in 1
Super Nestum 3 in 1
Milk powder
Horlicks
Biscuits
Cococrunch
Tomato sauce (large)
Chili sauce (large)
Peanut Butter
Honey
Soya sauce
Oyster Sauce
Luncheon Meat
Sardine
Peanut
Spaghetti
Nugget
Sausage
Cheese
Laundry detergent (powder)
Dish wash detergent
Toilet detergent
Floor cleaning detergent
Window cleaner
Toilet paper
Bleach
Thank you and we'll see you soon!